Luxury North Norfolk Holiday Barns & Cottages with an Indoor Swimming Pool
Our luxury Norfolk holiday barns and cottages are situated in the grounds of our home at Home Farm. The holiday barns and cottages are located in beautiful countryside close to the North Norfolk coast just a few miles away from Holkham, Wells-next-the Sea, Burnham Market and Brancaster. 
The former dairy-barns have been sensitively restored to provide spacious single story holiday barns with a luxury indoor heated pool in the original magnificent threshing barn, and a guest laundry in the former bull barn. 
Our 5-star luxury holiday barns were designed by a young local architect and added to the original holiday cottage cluster in 2019. 
Eco Holiday Barns
Our luxury Norfolk holiday barns have great eco- credentials and are largely powered by sustainable energy sources earth wind & sun.  The bright interiors offer spacious open plan living with a private walled terrace leading to gardens for alfresco dining. The eco-barns can be booked together to sleep up to 15 for corporate groups or family get-togethers.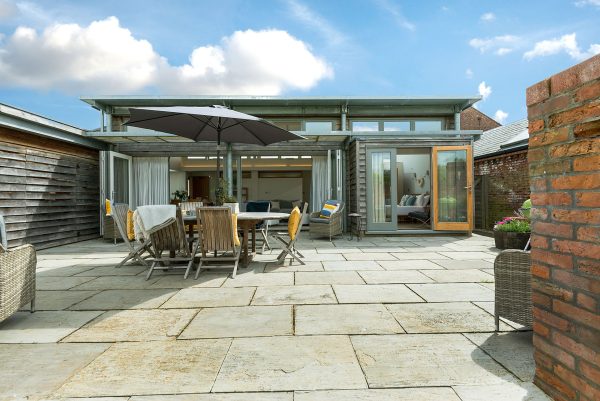 Dog Friendly Holiday Cottage
End Cottage was added to Cranmer Country Cottages in 2014. The 2 story former estate workers cottage was originally part of the farm and is now our dog-friendly holiday cottage with its private fenced gardens and private parking.  Guests staying at End Cottage are connected to the main site via a pathway and have shared use of the luxury indoor swimming pool, tennis courts and play area.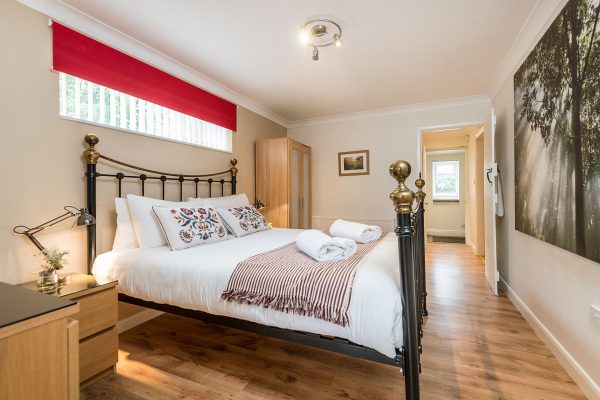 About Your Hosts
We moved to North Norfolk from London in 2009, taking on a sizeable redundant farm barn conversion project, consisting of a pile of forgotten barns, out-buildings and a shabby farmhouse.  
We continued to work in design businesses in London as the project took shape and whilst our daughter was small. Alongside the conversion of the Victorian red brick barns have also re-shaped the landscape around us.  Once an open prairie we have planted over 6,000 trees and hedges – this was to be the start of our eco journey.
Over the years we have developed friendships with some of our regular guests who are keen to know what is next on the agenda for Cranmer Country Cottages. We never seek to impose ourselves on our visitors but we are available to offer first-hand experience of discovering the best places to visit and experience. We are hands-on and are supported by a great local team of employees contractors and craftsmen, some of whom have been working for us for over 20 years and really know how to pull out the stops in an emergency.  We aim to deliver discreet and friendly service and someone is usually on hand or at the end of the phone to deal with life's little emergencies. 
We are a business that never stands still. We focus on high quality with a strong green ethos as part of our sustainable lifestyle strategy. We aim to deliver a memorable Norfolk holiday experience for all who visit and offer somewhere great to stay.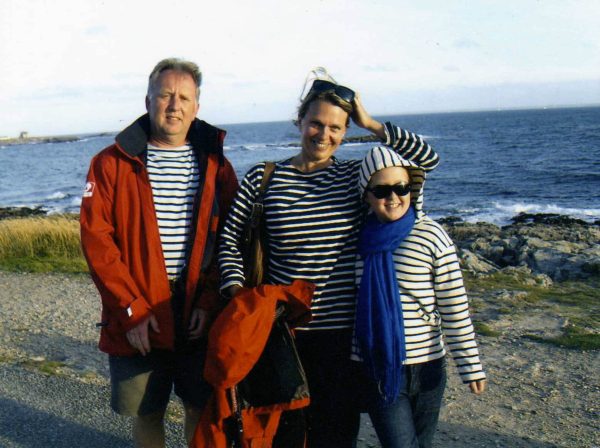 What We Love About Norfolk….
We have a passion for boating, so Norfolk really comes alive for us from April once the sailing season begins. Wild-swimming through the creeks with the tide is great for the soul and sense of wellbeing. We also love to explore the wide-open sandy beaches, tidal creeks and sultry marshland walks in the winter months. We were not birdwatchers before we settled here but with all of our hedgerow and tree planting, we are continuing to notice a myriad of new visitors to the fields and gardens. Other favourites include the wonderful autumnal tree walks held at Blickling and Sheringham. A picnic on Holkham beach is pretty hard to beat but the excitement of horse racing at Fakenham has also provided a number of memorable days out with friends. Pensthorpe Natural Park and Sculthorpe Moor are also great favourites I could go on and on, best to come and see for yourself by staying with us in our luxury Norfolk holiday barns and cottages.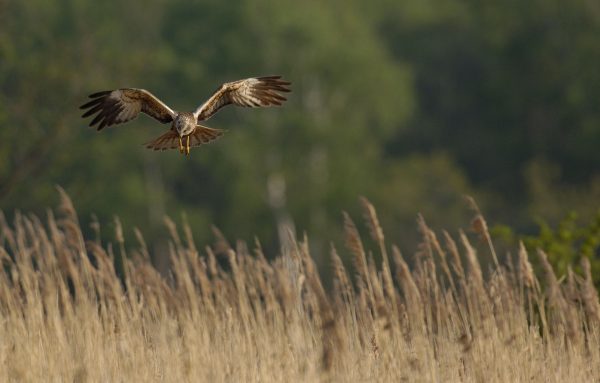 Subscribe to our newsletter and get exclusive special offers and late deals via email. We won't give your details to any third party.

Gold Members of the Green Tourism Business Scheme
Our eco-cottages are carbon neutral for a eco-responsible holiday.
Read what people say about us
We stayed in Swallow which forms part of a row of barn conversions looking out onto a large open field in the beautiful Norfolk countryside close to the North Norfolk Coast. Swallow a self-catering cottage with three bedrooms, 2 bathrooms and open plan living all on one floor is spacious, with modern farm house features and very comfortable furniture.

The amazing indoor swimming pool within one of the converted barns looks out onto open fields and is a delightful pool for all the family. We swam in the pool everyday, sometimes twice a day, most days having the pool to ourselves.

Plenty to keep the children entertained and over all very comfy place to stay. Only a short drive from wells next the sea for a day trip out too. Highly recommend for somewhere to stay in Norfolk.

The Eco Barn was a lovely place to stay we were pleasantly surprised the Garden House and Avocet were actually connected not just 2 buildings next to each other which was great for our stay. Plenty to keep the children entertained and over all very comfy place to stay. Only a short drive from wells next the sea for a day trip out too. Highly recommend for somewhere to stay in Norfolk.

Came across this hidden gem by accident and would like to keep it our secret ! However so pleased they are doing well. A lot of care and detail has gone into the renovation of these barns including a fab swimming pool and an essential games room for kids.

We loved our stay here with our sons and friends. The accommodation worked perfectly for us all. The games room and pool were a fab addition and meant you had options on site rather than going out. We would book again in the future

Spotless, well appointed, great facilities. Our little boy loved the huge garden to play in. Highly recommended we'll be back.

Very good arrangements for a family group holiday. Excellent that the swimming pool,was kept in operation with a very well organized schedule.

Lynne and John are superb hosts and the cottages are well designed and thoughtfully equipped. Due to Covid a few things had to be different from usual but they went above and beyond to ensure everyone got a safe holiday and a turn in the pool!

We have stayed at Cranmer every year for 10 years and have stayed in most of the cottages… Woodpecker is a smaller cottage but well equipped and comfortable with a handy extra bedroom. The water pressure and temperature was excellent so important after a rainy day at the beach. We ate in this year far more than usual and found the kitchen and appliances very easy.

We have stayed at Cranmer every year for 10 years and have stayed in most of the cottages. Lynne and John are superb hosts and the cottages are well designed and thoughtfully equipped.

Another excellent stay at Cranmer that even Covid could not spoil!

We have just returned from a great weekends stay at Cranmer Cottages. Garden House was brilliant, very spacious with high quality decor, and very clean. The large garden area to the rear of the cottages is great for kids to play, and the pool was lovely. We will definitely be booking again.

We had a lovely time at Cranmer. Customer service is amazing and we treasured the swimming pool and game rooms.

Thank you very much, we had a great time. We loved the cottage and the pool. When do you have vacancies in Sept 2021 please?

Just wanted to let you know we've left this morning – thanks for such a lovely stay it was fab.

Thank you very much. It was our second stay with you guys and was very enjoyable. Couldn't have asked for more. looking forward to staying with you guys again in the future.

Thank you very much for the accommodation at End Cottage this weekend. The cottage is beautiful and we very much enjoyed our stay. The pool was such a huge bonus and our little ones, who have been unable to swim much over this last year derives a lot of benefit. I very much we will be able to visit you again as it really was the perfect spot.

We had the most wonderful stay at Cranmer Cottages. Set in the most stunning location with rolling countryside it really was a little slice of heaven. We will definitely be returning for another stay in the near future. Thank you all very much.

Thank you for the most wonderful stay at Wagtail last week. It was lovely to meet some of you to put faces to names and of course it was great to have such a fantastic base on some of those typically wet British days so we could still enjoy our time together.

Swimming pool was fabulous , games room brilliant and were greeted on a very wet dark night with a very happy and smiling host. Truly recommend this farm to stay at , close to Wells next to sea , Holkham Hall and other coastal areas. We will definitely be returning.

What a fantastic place to come and stay. we stayed in End cottage for a long weekend with two dogs so a nice secure garden was fab to have. Victoria sponge cake supplied on arrival, milk in fridge , tea and coffee all there. What more can we say.

As a shining example of green tourism in North Norfolk – Cranmer Country Cottages are proud to have been selected to feature in The Campaign to Protect Rural England

We had a wonderful family time in this perfect hideaway

Lovely cottage and fantastic facilities for the children (aged 3 + 5)

We have had a fantastic time and would love to come again

Self-catering just got a seriously stylish upgrade

If you're looking for a luxury, family stay in North Norfolk, this is it. If you're looking for a luxury, ecologically aware  family stay, this is it too.

I can't think of another five-star self-catering accommodation in the UK that is as green as Cranmer

Just a word to say how much we enjoyed our stay at the cottages – no one wanted to go home!

We have just returned from a fabulous weeks cycling based at Cranmer Country Cottages in North Norfolk from which we cycled over 300 miles on the some of the best English lanes you could hope to find. As club cyclists who have enjoyed lots of Great Britain and Europe on a bike we think Norfolk is a real gem.

There is so much more on offer. Quiet lanes linking pretty villages with duck ponds and great pubs, watch out for the wild life on the way, brown hares and barn owls don't seem very shy as they go about their business.

The two cottages were booked as a surprise for my 60th birthday, and what a surprise. I could not have hoped for a more fantastic celebration. We all enjoyed a brisk walk in Wells-next-the Sea, lunch in a local pub followed by a swim in the great pool here. The cottages are so well equipped, everything has been well thought out. I would recommend the cottages to any group wanting something special! Very relaxing time had by all.

Wonderful to come back to such a peaceful place, fresh air and beauty. It was very snowy while we were here and although very cold still fantastic. We loved the touch of the welcoming tea tray and fresh flowers – felt very personal. A wonderful haven!

Our first winter stay and it was even better than we had hoped for! A beautiful place to relax in comfort, fill your lungs with fresh air and spend some time with the most hospitable owners, Lynne and John, who have become friends over the eight years we have been visiting. Thank you.

Another great Christmas in Tern, Swallow and Woodpecker Cottages. All very welcoming, warm and comfortable – everything we could need. Our Christmas dinner cooked in the Rayburn. All fantastic yet again!

We very much enjoyed our stay in the lovely warm surroundings of Woodpecker Cottage. Heated pool absolute bliss for early morning swims with the added bonus of splendid views of extensive countryside through those huge windows. Thanks for a wonderful stay, we will be back soon.

First Class Accommodation – highly recommended. We have stayed in 3 properties and would not hesitate in recommended them. We take our 2 small children (under 4) and often take my mother-in-law (for babysitting) and we particularly like in heated, indoor, salt water pool and huge fenced off play area which each property backs onto. Compared with other accommodation we have staying in, these are the best by a long shot.

We booked Garden House, Avocet & Woodpecker for a surprise birthday party for my son. It was such a brilliant weekend and I would like to thank you for recommending Susi; she was marvellous and the food was perfect. Hope to return to Cranmer Cottages in the near future and would thoroughly recommend them to everyone.

If you are looking for a luxury, family stay in North Norfolk, this is it. If you are looking for a luxury, ecologically aware family stay this is it too. A fabulous holiday with a green conscience, if you will…...

A wonderful week with plenty of memories – and amazingly enough, no rain, even some sunshine. Completely sold on Norfolk and this place – have no doubts we will be back.

Just wanted to say thanks for the Easter egg – what a lovely welcome surprise! We have had a wonderful stay and Coot cottage worked so well for us with Harry – you really do think of everything!

Our family love visiting Cranmer Country Cottages and we have returned for the past 4 years. We all feel like its 'home from home' and are always made to feel so welcome by the wonderful staff. The children particularly love the yummy handmade chocolates on arrival and they are so excited to jump straight in the pool after our long journey from Hampshire. It is so worth the drive! It is brilliantly located for fantastic family days out and long strolls on amazing beaches. We have so many lovely memories

We had a brilliant holiday – thanks for providing us with everything we needed.

An excellent example of how a luxurious accommodation can attempt to be carbon neutral

I really loved Norfolk. The cottage is so so so great and the pool was the best. Everyone absolutely loved it – we thought we should have stayed a whole week. I wish I could stay forever. Bye Bye!

We have just been here for three nights but so wish we were able to stay a week! Thank you so much and we wish you every success with this venture which is truly excellent

Probably the coldest week in the last 12 months; ice, snow and very cold! Nevertheless we had a good time. It was always lovely to return to the warm welcoming cottage. We experimented by cooking with the Rayburn – great fun and good results. Try it!