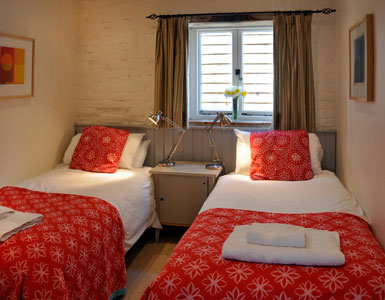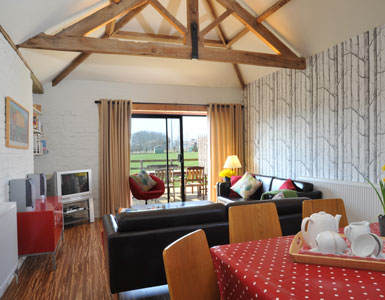 Woodpecker
SLEEPS 5
3 Bedrooms
4 Star Luxury Holiday Cottage in Norfolk
Self Catering Holidays
Under 3 hours from London
Carbon Neutral
Tennis Courts
Swimming Pool
Views of the North Norfolk countryside
Nearby beaches
Families Welcome - cots and zed-beds available
Wireless broadband

Changeover days are Fridays and Mondays.
Check all availability for all cottage >
Bookings by email : bookings@norfolk-luxury-cottages.co.uk
Booking by telephone : (+44) 01328 823135
Download Printer friendly .pdf files
Information about Woodpecker Holiday Cottage
Accessibility Statement for Woodpecker Holiday Cottage
Inventory for Woodpecker Holiday Cottage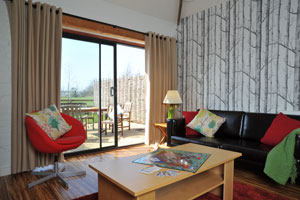 Self Catering Luxury Holiday Cottage in Norfolk
EnjoyEngland Tourist Board has awarded Woodpecker Holiday Cottage 4 Stars. All our cottages have achieved the Visit England Gold Award for exceptional quality of accommodation in 2012/13. Woodpecker Holiday Cottage in Norfolk is accessed from courtyard 3 at the North end of the site. Parking for 1 car is available in the adjacent private car park 63 metres from the front door. This Luxury Holiday Cottage has 3 bedrooms and two bathrooms designed for the extended family.
Woodpecker offers an open plan living dining and kitchen area family bathroom and ensuite shower room off the main bedroom. Bedrooms are close to one another - bedroom 1 has a king sized bed, bedroom 2 has two single beds and bedroom 3 is a compact single bedded room with space for a travel cot (next door to bedroom 1).
Woodpecker Holiday Cottage has its own fenced garden area leading to the communal garden space where children find friends and make the most of the open space still within sight of their parents' cottage.
Woodpecker communicates with Swallow between the hallways for extended family get-togethers or friends reunions. Together the two cottages combine to sleep 11 with two travel cots.
Out of school holidays the sitting area is a quiet warm place to sit and observe nature's habitat what ever the time of year.
*Please note woodpecker will sleep 5 in 3 bedrooms from January 2013 - we will no longer provide bunk beds.
SLEEPS 5

*

Communicating door with swallow [for combined occupation]
DINING Table and chairs for six
SITTING Spacious area with two sofas, two armchairs
BEDROOM 1 King-size bed, wardrobe and drawers, hairdryer, en suite shower, hand basin, wc
BEDROOM 2 Twin beds, wardrobe and drawers
BEDROOM 3 one single bed, space for travel cot, drawers
BATHROOM Bath, washbasin, wc
TERRACE Fenced-in area.
Please note for all bookings from Feb 2013 - No Bunk beds - single bed + optional travel cot only in bedroom 3.