PRESS RELEASE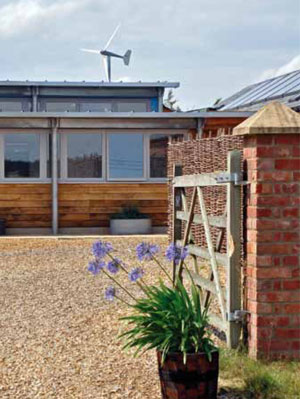 FOR IMMEDIATE RELEASE: Thursday 03 February 2011
The only business in Norfolk to be listed in a new EU guide on eco-buildings"
Award winning luxury self catering holiday business Cranmer Country Cottages are the first green tourism accommodation provider in the Eastern region to be featured in the new C2C sustainable practices guide.
Lynne Johnson on the subject of being a quality green tourism business:
"We seek to inspire rather than dictate to our guests. Ultimately we hope that the experience of staying in Norfolk with us will encourage respect for our environment and green thinking in the future."
http://www.c2cn.eu/sites/default/files/C2C_InitiativesGuide_2011.pdf (page 60 Build section – entered by Suffolk County Council as they did not have any properties fitting the criteria)
About the guide:
The C2C Network proudly presents 'A Journey from Cradle to Cradle. C2CN Initiatives Guide'. The guide (aka the good practice handbook) can best be seen as a catalogue of C2C related practices that are being planned and/ or happening in Europe. The cases in this initiatives guide come from stakeholders who understand that we need to go beyond eco-efficiency and have departed on their journey towards eco-effectiveness. The good practices presented in this book do not only describe C2C certified products or services. They are not pure examples, neither are they the very best or ultimate examples of C2C applications. The good examples in this handbook are first and foremost examples of practical efforts, of practices aiming at real live implementation of C2C inspired thinking. Enjoy and let them inspire you as well.
The Garden House property also featured in The CPRE green buildings in Norfolk booklet volume II 2010(see our website for details)
For more info on Green tourism at award winning Cranmer Country Cottageshttp://www.norfolk-luxury-cottages.co.uk/eco-tourism
http://www.norfolk-luxury-cottages.co.uk/press
Cranmer Country Cottages –
Award winning self catering cottages close to the north Norfolk coast
FAST FACTS 2011
An ongoing vision for the future
Over the past 10 years Lynne & John Johnson have created a unique and sustainable tourism business in Norfolk. Continued investment and development in their business reflects their passion for both the tourism business and its location. As Green Tourism Business Scheme Gold Award members, Cranmer country Cottages arelooking towards sustainable and responsible tourism as the future for the business, including a greater integration with the surrounding countryside and ongoing conservation development.
In 2009 Cranmer Country Cottages opened three new eco-barns in the latest phase of development at Home Farm – comprising of two converted barns and one state of the art low energy steel and glass new build - designed by a local young architect from Fakenham. The new eco barns incorporate renewable energy sources solar, ground source heat and wind. The business ethos is to deliver a high quality Norfolk tourism experience with consideration to the environment and the local community.
In

2009

Home Farm buildings and holiday accommodation business was remarkably reunited with 163 acres of its original surrounding farmland. In 2010 the land was entered into a HLS agreement (www.naturalengland.co.uk ) The scheme proposal is to deliver environmental benefits and improve and maintain environmental management, conserve the heritage and improve the appearance of the landscape.
In

2010

two of the original cottages were converted to green energy supplies – solar water heating and ambient heat from ground source heat pumps. 2 original gas boilers were removed further reducing the business carbon footprint from onsite energy use.
During January

2011

the initial phase of the Higher level Stewardship Scheme conservation works has begun with recreation of an original woodland area involving the planting of 800 mixed species native trees and hedge creation with1800 native hedging plants. A second 1 hectare of woodland is due to be planted in 2012.
The properties were purchased in

1999.

During the 10 years of painstaking conservation work at Home Farm Cranmer the owners have also enhanced their local landscape with an extensive tree planting programme of approximately 12000 trees and hedging plants prior to the purchase of the surrounding farmland . This is considered by the owners as making a significant contribution in offsetting Co2 emissions' generated by visiting guests who depend on car use in this rural location.
Cranmer Country Cottages has installed a 20kw wind turbine sited far enough away from the holiday cottages not to be an intrusion to guests, but sufficient to power the entire site.
Ground source heat pumps, solar & wind power provide renewable energy for both the swimming pool, the 3 eco-barns and 2 of the original holiday cottage conversions. Approximately 35% of the accommodation uses energy exclusively from renewable sources. A further 30% uses almost all renewable sources and the final 35% receives a significant contribution from the wind turbine. The renewable percentage for these last 3 cottages will be increased as part of an ongoing programme.
As part of the company's green commitment, current recycling and composting facilities have been extended and guests are encouraged to participate as part of the sustainable measures in place.
The cottages
Award winning Cranmer Country Cottages is a small privately owned complex of seven converted Victorian barns and one new build property at Home Farm with three new luxury carbon neutral barns. Set in a gorgeous rural setting close to the glorious sandy beaches and pinewoods of Holkham and Wells and the fashionable village of Burnham Market.
The sensitively restored Arts & Crafts barns are bright, spacious and all on one level. Self catering is a pleasure with well equipped open plan kitchens; simple and uncluttered furnishings in relaxed contemporary living areas and comfortable bedrooms. The three new cottages boast a high degree of luxury and comfort more akin to a five star hotel.
The converted barns are arranged around three courtyards in the grounds of the owners' farmhouse. The cottages sleep 2 – 12 (40 when the whole site is booked). Lynne & John Johnson are around to deal with problems and as keen sailors and walkers pass on their knowledge of the surrounding area first-hand.
The holiday accommodation retains many of the architectural details which feature as part of the Victorian farms heritage. The converted barns are ideal for hosting celebrations, reuniting friends or simply a walking or cycling weekend break for two. The cottages living areas boast magnificent views over Home farm's 175 acres of arable farmland and open countryside as far as the eye can see. The whole complex has a relaxed peaceful feel and everything is taken care of – from barbecues, cycle hire, tennis lessons, swimming lessons, free WIFI internet access, highchairs and baby friendly extras to baby sitting, bespoke catering and deliveries of local produce hampers.
Amenities
The magnificent threshing barn has been converted into a spectacular sparkling indoor heated swimming pool. The pool encompasses the latest technology and is salt dosed in preference to chlorinated, it also boasts an energy efficient heat recovery system solar water heating and is deck level. There are also two all-weather tennis courts, games room, and a large enclosed play area with adventure play ground and pic nic areas making Home Farm an ideal base for the whole family.
Location
There is easy access to walks, cycling and bird watching. Holkham Estate and Pensthorpe Nature Reserve, host of BBC's Spring Watch, are both within six miles.
Slightly further a field are the National Trust properties at Blickling, Felbrigg, Brancaster and the Royal retreat at Sandringham and internationally renowned bird reserves at Titchwell Cley and RSPB Snettisham. There is sailing at Wells, Burnham Overy Staithe and Brancaster and kite surfing at Hunstanton.
There are a number of golf clubs including the Royal Sherringham and Brancaster clubs. For young families there are steam railways, the dinosaur park, Seal spotting boat trips, bug trails at Pensthorpe and pottery painting in Holt.
Foodies
Visitors enjoy sourcing abundant local seasonal produce from the local farm markets and farm shops at Walsingham and Back to the Garden in Letheringsett near Holt. There are a number of gastro pubs locally and the Michelin starred Morston Hall is a popular destination.
Client base
Frequent visitors include those from Norwich, Cambridge, Essex, London and the Home Counties, as well as Leicestershire and Nottingham. Overseas visitors include Dutch French German and Irish guests.
For further details please visit our website or contact below.
Contact: Lynne Johnson
W: www.norfolk-luxury-cottages.co.uk
T: 01328 823135
E: lynne@norfolk-luxury-cottages.co.uk
Ends.