Child Friendly Holiday Cottage for Family Holidays in Norfolk

"We had a wonderful family time in this perfect hideaway"
"Lovely cottage and fantastic facilities for the children (aged 3 + 5)"
"We have had a fantastic time and would love to come again" Toby aged 8
At Cranmer Country Cottages we offer self catering luxury holiday cottages perfect for family holidays in Norfolk. Our holiday cottages provide a perfect base for family cycling holidays and family birdwatching & nature spotting holidays.
As parents ourselves we aim to take some of the worry out of going on holiday with little ones. We offer toddler and child friendly facilities and a babysitting service to giving the cook a rest with bespoke catering and home cooked freezer meals and picnic hampers delivered to your holiday cottage. Baby friendly extras are available.
The holiday cottages are all on one level with no dangerous stairs; spacious open plan living areas mean that little ones can be within view even when preparing meals. Styling is contemporary; simple as well as practical and child friendly. Please note the 5* eco barns have eco-friendly underfloor heating and solid travertine and slate floors.
Outside there's a large, safe fenced play paddock visible from all cottages (except Coot). The two acre grassed area has outdoor activity equipment and a timber playhouse with plenty of space for families to run about, fly kites and kick balls. The cottages each have private terraces for family holiday barbecues. Woodpecker has its own garden with a gate to the paddock.
We have taken a modern approach to self catering with emphasis on stress free family living even with toddlers in tow!
Please note: The eco barns have very beautiful heated travertine tiled floors with rugs. Owl, Wagtail, Tern, Swallow & Woodpecker have laminate or bamboo floors apart from the bathrooms which are tiled or are fitted with non-slip safety floor in the case of Tern; providing a less harsh landing for stumbling tots.
Child Friendly Facilities:
Nursery equipment includes cots, high chairs, baby baths, changing mats, night lights and baby monitors. In addition to the standard fridge freezer, microwave, cooker and dishwasher there are children's utensils in all cottages.
The games room has table tennis, pool and darts and a library of DVDs, toys and bedtime story books For parents who need to keep in touch with work, the games room and most cottages receive free broadband access.
Our well appointed luxurious indoor heated swimming pool has spacious warm changing rooms, non slip safety tiled pool side and easy entry shallow steps. The pool hall air temperature is maintained at one degree above the water temperature so splashing infants won't catch a chill. The water quality is rigorously maintained with an automatic dosing system and salt electrolysis purification keeps chlorination to a minimum. Swimming tuition for tots upwards can be arranged.
For older children and parents we have two all weather outdoor tennis courts with a sitting area to park prams and buggies.
Local fun for family holidays
Nearby Pensthorpe nature reserve offer plenty for families to experience and explore including bug walks, den building and the WildRootz adventure play areas with both indoor and outdoor facilities. www.pensthorpe.com/wildrootz

Kids love the local steam railway www.nnrailway.co.uk. Another favourite for a fun packed day out is the dinosaur park www.dinosauradventure.co.uk. There are also plenty of wildlife centres; Snettisham Park is a favourite and for older children there is a woodland high ropes adventure course at nearby Weasenham, age 10 and up www.extremeadventure.co.uk. There is an aquarium in Hunstanton and Gressenhall offers a fascinating journey through the story of rural Norfolk. A little further a field is the new Bewilderwood for ages 1 and up. This enchanted world can be found close to the broads at Hoveton www.bewilderwood.co.uk. For those who enjoy something a little more artistic Doolepots in Holt is a ceramic café offering an opportunity to sit quietly and customise a mug, plate or keepsake to remember your holiday by. There are also several National Trust properties nearby with excellent child friendly cafes and history trails for young and old www.nationaltrust.org.uk. Alternatively when the weather is good and the quays are quieter, usually early July and September, children enjoy gilly crabbing at Burnham Overy Staithe and Wells-Next-The-Sea or a seal spotting trip by boat from Morston or Blakeney. Follow this up with traditional freshly cooked fish and chips on Wells quay.
Babysitting service
We offer a baby sitting service subject to booking in advance and availability. The rate is £8.00 per hour – there will be an extra charge if the babysitter is required to look after more than 2 children or is needed past midnight or for bank holidays.
When a babysitter has been booked we ask you to complete an information form with details of any medication, set routines and details of how you may be contacted in an emergency. The babysitter reserves the right to charge a cancellation fee if the services is cancelled with less than 48 hours notice.
To enquire about baby sitting services during you holiday at Cranmer Country Cottages please contact bookings@norfolk-luxury-cottages.co.uk
Baby friendly extras
Bed guard, booster seat, baby listener, baby bath; these are available on request and must be booked in advance of your stay. We cannot guarantee to provide these items if they are not booked in advance.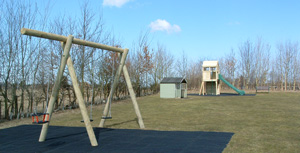 Grounds and Play Area
Cranmer Country Cottages are converted barns on Home Farm's 170 acre farm.
There's a large, safe fenced play paddock visible from all the holiday cottages. The 2 acre grassed area includes outdoor activity equipment and a timber playhouse with plenty of space for running about, flying kites and kicking balls – a great place for making new friends during a family holiday.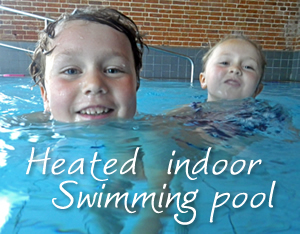 Swimming with babies and toddlers
The luxury indoor heated pool at Cranmer is the perfect place to encourage babies and toddlers over 12 months into swimming. The water temperature is 29 degrees increasing to 30 degrees with solar gain. To prevent accidents in the pool we just ask that you use the neoprene happy nappy system that can be purchased from Amazon or Splashabout.
Please note that the pool is heated to 29 - 30 degrees maximum and is not heated to 32 degrees as an infant training pool dosed with chlorine might be. Babies and infants must wear neoprene swimming costumes and double nappies to prevent leakage. The pool is salt dosed which is not suitable for very young babies' ingestion. The pool is designed for recreational swimming it is not a leisure pool – it is a great place for children to build their confidence and learn to swim. If you have concerns about the temperature please download this information from Rospa.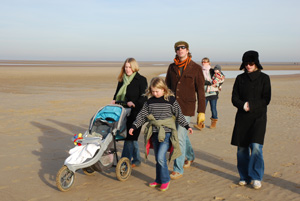 Family Friendly Beaches
Our family friendly holiday cottages are ideally placed for the wonderful beaches at Holkham and Wells-Next-The-Sea. Both beaches boast golden sand, shady pinewoods and sheltered sand dunes and are within a 15 minute drive. Brancaster beach is also popular with young families as parking is next to the beach.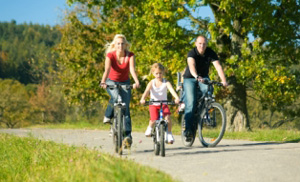 Family Cycling Holidays in Norfolk
With its quiet country lanes and gently undulating landscape, Norfolk is ideal for cycling. From our holiday cottages you can cycle along the old Roman Road to the beach at Holkham. Take a picnic and discover the countryside. You can arrange to have the bikes delivered to site for your arrival, including bike locks, helmets, tag-alongs and children's seats.