Welcome to Home Farm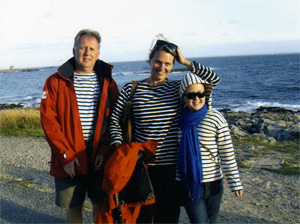 Lynne and John Johnson with daughter Emily
Who are we?
John and I moved to north Norfolk from London in 1998. John had close family ties with Hunstanton and he spent many of his childhood holidays on the Norfolk coast. We moved from cosmopolitan Islington to this wonderful peaceful backwater to bring up our daughter in a greener and more relaxed environment.
We bought a wreck of a farmhouse with a pile of ramshackle barns and 8 acres of land. Over the past 11 years we have lovingly restored the house and the barns, restoring many of the original features and recycling original materials. With the recent acquisition of the surrounding 168 acres of farmland and natural England's Higher Level Stewardship scheme we are restoring the landscape too.
We had very little experience of the tourism business when we first opened over 10 years ago: I trained at the Royal college of Art as a fashion designer and John is a specialist lighting consultant lighting art galleries around the world. Our backgrounds have bought a unique edge to our business and certainly John's engineering skills have been essential in developing our unique combination of renewable energy technologies at Home Farm.
Over the years we have developed friendships with regular guests who are keen to know what is next on the agenda for Home Farm. We never seek to impose ourselves on our visitors but we are available to offer first hand experience of discovering the best places to visit and experience. We deliver discreet and friendly service and someone is usually on hand to deal with life's little emergencies. Our award winning self catering business is constantly evolving in line with our customers requirements albeit baby friendly extras or locally produced food delivered to your door. We are a business that never stands still. We focus on high quality with a strong green ethos as part of our sustainable lifestyle strategy. We aim to deliver a memorable Norfolk holiday experience for all who visit and offer somewhere great to stay
What we love about Norfolk….
We have a passion for boating so Norfolk really comes alive for us from April once the sailing season begins. However we also love the wide open sandy beaches and sultry marshland walks in the winter months. We were not birdwatchers before we settled here but with all of our hedgerow and tree planting we are continuing to notice a myriad of new visitors to the fields and gardens. Other favourites include the wonderfull autumnal tree walks held at Blicking and Sherringham. A picnic on Holkham beach is pretty hard to beat but the excitement of horse racing at Fakenham has also provided a number of memorable days out with friends. Pensthorpe and Sculthorpe Moor are also great favourites I could go on and on, best to come and see for yourself.
The Team
Mark Potter joined us as Estate Manager late last year and will play a leading role in looking after your welfare during your stay with us at Home Farm. Mark is a qualified Town Planner who has experience in rural development and management, as well as experience in agriculture and biodiversity. Mark is keen to promote the business as a sustainable and green destination for our guests. Mark is a local man; though has travelled widely but consider his roots to be in this part of North Norfolk. Mark is always on hand to offer local advice, especially the locations of the bests pubs in which to wine and dine.
Mark is supported by our team of part time housekeepers and contractors to ensure that our properties are kept clean and well maintained in preparation for our guests arrival . Lorraine ensures the office runs smoothly when we area away. John and I are around during the week and at weekends when the office is closed. We are always please to engage with our visitors during their stay.
Lynne Johnson 2011
---
Find us on